Peter J. Tomasi (Writer), Patrick Gleason (Writer, Artist), 
Doug Mahnke (Artist), Jorge Jimenez (Artist), Alejandro Sanchez (Colourist), Rob Leigh (Letterer), Mick Gray (Inker),
John Kalisz (Colourist) , Jaime Mendoza (Inker), Wil Quintana (Colourist)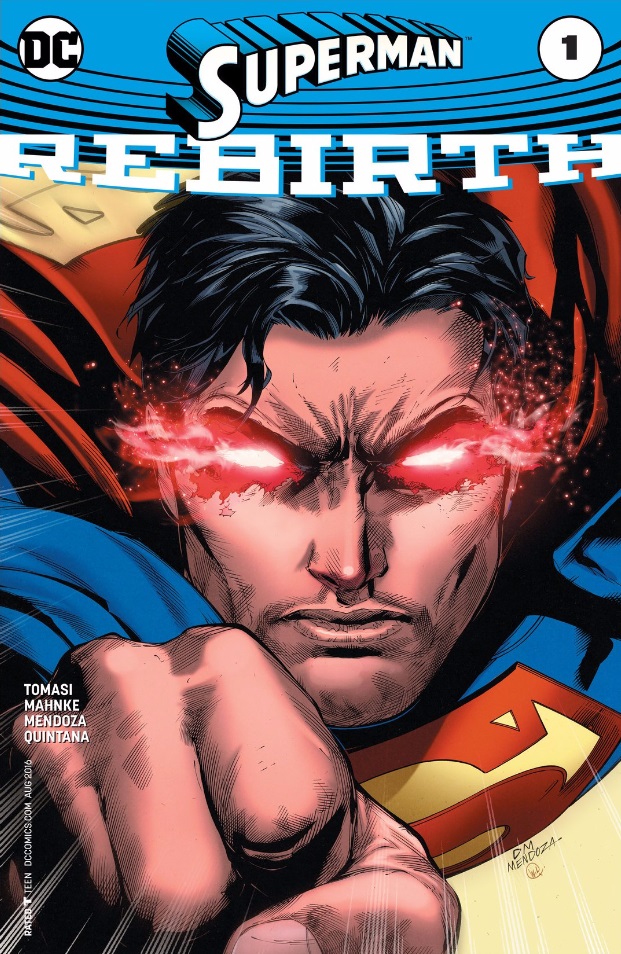 I can't remember the last time I touched a Superman comic… or any comic in general for that matter; Probably a good eight years or so. So when I recently decided to get back into reading comics again, I wasn't really sure where to begin in regards to the Man of Steel, especially after learning that DC was relaunching itself in 2016. That's when I got the epiphany: Why not just start there?
Plot: At first, I wasn't sure what to expect with this "New" Superman. For one, the volume focuses on New Earth Superman, who arrives on Prime Earth to replace the Superman of that world. I enjoyed seeing him not only as a hero filling the "original" Superman's shoes, but also as a family man with a wife and son in the form of Clark Kent.
The most interesting part of the plot was weaving Jonathan's struggle to adjust to human life with his Kryptonian powers (Like frying the family cat with his heat vision), which becomes a bigger plot device latter on during the fight between Superman and the Eradicator. That said, it's probably just me, but Eradicator's plan to "purify" Jonathan, and then propagate the ghosts of dead Kryptonians seems vaguely similar to Zod's plan in the Man of Steel film. Oh, and seeing Lois Lane in the Hellbat suit was awesome, although it would have been 1000x better if it were the real dark knight himself.
I really enjoyed the overall artwork;  Art wise, Doug Mahnke, John Kalisz, and Wil Quintana are definitely new favourites. The overall quality is everything a Superhero Comic should have: bright, vibrant, well contrasted, etc. Gleason's art style is noticeably different in terms of quality, probably not fitting too well with this particular story (In relation to the artists), but that's a nitpick at the very least.
For someone who hasn't touched a comic in years, the plot and visual appeal is perfect for a "back to basics" Superman story. I didn't feel confused at the new origin story (Ive gotten used to legions of people surviving Krypton's destruction at this point), but I've even been tempted to give Flashpoint a try for contexts sake.